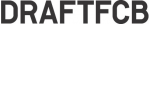 Draftfcb Montreal,
Montreal
1080 Beaver Hall
Montreal, Quebec H2Z 1SB
Canada
Phone: 514 938-4141
Fax: 514 938-2022
Country Phone Code: 1
Network Description
Draftfcb is a global network of 150 offices in 90 countries with 9,000 employees. Our main hubs are in the most important and fastest-growing markets, including Chicago, New York, London, Hamburg, Madrid, Sao Paulo, Johannesburg, Mumbai, Shanghai and Dubai. Draftfcb is wholly owned by the Interpublic Group of Companies, a publicly traded global marketing communications services company (NYSE:IPG).