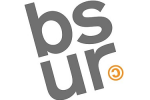 BSUR Amsterdam,
Amsterdam
Follow
Update
Fahrenheitstraat 99
Amsterdam 1097 PP
Netherlands
Phone: 020 460 25 00
Fax: 020 460 25 25
Philosophy & Competitive Advantages
Founded in 1995, we have built our own approach to branding: Concepting. We believe
that only brands stating a clear vision, or conveying a genuine, authentic mentality, will cut through: 'be as you are'. Strong concept brands create real fans, can adapt to change and even venture into new categories.
Network Description
Independent


Local Representation
BSUR delivers return on branding through three independently operating companies:
bsurconsulting > brand portfolio creativity, brand re-engineering, brand creation
bsuragency > identity design, integrated communications, brand activation
bsurfactory > international roll-out into media and production, custom systems
Trade Organizations
VEA/Dutch Association of Communication Agencies (VEA)
The Networkone