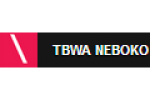 Generaal Vetterstraat 82
Amsterdam 1059 BW
Netherlands
Phone: (0)20 571 55 00
Fax: (0)20 571 55 01
Philosophy & Competitive Advantages
We create Disruptive ideas that help our clients gain a greater share of the future.

Our approach is grounded in Disruption, an orientation and methodology designed to identify and challenge the corporate, category, marketing and consumer conventions that can prevent a company or brand from succeeding.

Our delivery goes beyond classic integration thanks to a new discipline called Connections Planning, which helps to develop media-neutral, multi-channel plans that inform, inspire and amplify virtually every connection between a brand and its target audiences.

The result is an unequaled record for effective campaigns as documented by more Grand Effies than any other Agency, and a reputation for doing the kind of work that is difficult, if not impossible, to ignore.
Network Description
TBWA\Worldwide is one of the topten US-based agency networks with annual consolidated billings of $9.76 billion. The network has over 214 offices in 72 countries, and 8,600 employees worldwide. Major global clients include Absolut, adidas, Apple, Beiersdorf, Nissan and Sony PlayStation.

Each agency in the network adheres to the founding principle that great creative and great results are not mutually exclusive, but critical partners in our dynamic, media-driven society. We have won more Grand Effies for advertising effectiveness than any other agency on the planet.
Local Representation
TBWA\Netherlands consists of TBWA\Company Group (Amsterdam) and ARA, HVR/Bridge, Bovil, TBWA\Multicom, Baseline and Bovaco. TBWA\Company Group consists of: TBWA\Campaign Company (brand strategy and advertising); TBWA\Direct Company (Direct Marketing and sales promotion); TBWA\PR Company (PR); TBWA\Brand Experience Company (events, sponsoring); TBWA\Retail Company (Retail and in-store); TBWA\Designers Company (packaging and design); TBWA\Job Company (recruitment advertising); TBWA\Interaction Company (interactive communication).
Trade Organizations
VEA/Dutch Association of Communication Agencies (VEA)