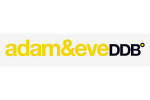 Adam & Eve DDB,
London
12 Bishops Bridge Road Paddington
London W2 6AA
United Kingdom
Phone: 020 7258 3979
Fax: 020 7258 4200
Country Phone Code: 44
Philosophy & Competitive Advantages
DDB UK is a leading integrated communications agency, creating everything from large scale global to niche social media campaigns.
Effectiveness is at the core of our culture. For us the purpose of creativity is to create ideas that will generate more money for every pound of our clients' marketing budgets spent over the short and long term. We achieve this by creating famous, talked about advertising ideas that translate into long running campaigns.
As testament to this DDB UK are the most awarded agency in the world for creativity over the ten years of the Gunn Report and the most awarded agency in the history of the IPA Effectiveness Awards, winning 4 times more awards than the nearest agency.
Network Description
DDB Worldwide Communications Group Inc . (www.ddb.com) is the largest consolidated advertising and marketing services global network in the world, according to Advertising Age. DDB also has been frequently ranked as the most awarded agency network in the world by Creativity magazine and The Gunn Report, among others. In 2009 DDB was named Global Network of the Year by Campaign magazine and Tribal DDB Digital Agency of the Year by Media. With more than 200 offices in over 90 countries, the DDB Group believes that creativity is the most powerful force in business, building enduring and powerful brand experiences that create TalkValue™, influence social communities and drive results. DDB Worldwide is part of Omnicom Group Inc. (NYSE: OMC).
Local Representation
Being part of Omnicom Group we are able to leverage the diverse expertise from all the marketing disciplines within our network. If knowledge, services, or production expertise are required outside of DDB's offering (for example brand consultancy, PR, media planning and buying or event implementation) we have Omnicom network partners who are on hand to advise or work in partnership with DDB and our clients.
Trade Organizations
Institute of Practitioners in Advertising (IPA)
Account Planning Group (APG)