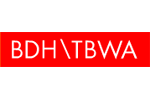 TBWA\Manchester,
Manchester
Follow
Update
St Paul's 781 Wilmslow Road Didsbury Village
Manchester M20 2RW
United Kingdom
Phone: 0161 908 8600
Fax: 0161 908 8601
Philosophy & Competitive Advantages
We?re here to create a larger share of the future for you as people and the brands you put into our care. And our belief that is that it is no longer sufficient to just create advertising - albeit highly effective advertising. It?s about imagining the possibilities of tomorrow. And we do this using three key assets: Disruption : lets us start to ask ?why things are the way they are? and allows us to imagine what effect the introduction of change might have on the dynamics of the marketplace and the performance of your brand. Connections Planning : allows new insight into the best possible mix of Connections points in order to create a change in consumer behaviour. People : a passionate, committed and talented group who really immerse themselves in their clients businesses.
Network Description
We are represented in 72 countries worldwide.
Trade Organizations
Institute of Practitioners in Advertising (IPA)
Marketing Society (MS)