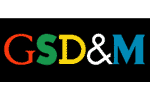 GSD&M idea city,
Austin
Follow
Update
828 West 6th Street Headquarters
Austin, Texas 78703-5402
United States
Phone: 512 242-4736
Fax: 512 242-4700
Philosophy & Competitive Advantages
You have to stand for something. Even if you're an advertising agency. Even beyond the work. We knew that from the very beginning. And we all kind of know the things we believe in, but we only recently defined -- and literally carved in stone -- our core, authentic values: principles we do not compromise. Under any circumstances.Ever.