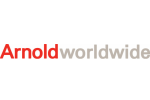 Arnold Worldwide,
Boston
Follow
Update
10 Summer St
Boston, Massachusetts 02110
United States
About Us
Arnold powers brands with the reach, resources and integrated capabilities of a big agency, and the creative, nimble, "nothing-we-can't-do" attitude of a smaller shop. We've been told this combination makes us different. Our product is designed to fuel brand velocity. In a world where there have never been more ways to reach consumers – and consumers have never been harder to reach – we create ideas that multiply, move quickly, provide utility, drive culture and make brands matter to the people who will buy them. We work in small cross-disciplinary teams, which allows cross-channel ideas to be born organically, synergies to be leveraged and one dollar to work like two.
Philosophy & Competitive Advantages
Our agency mantra is "Great Work Works." It's a promise we make to every client that a better idea will build shareholder value. Proof of our performance lines the walls of our hall – big, gold museum-quality frames display the results we've helped our clients' achieve. This is our art. Arnold clients that are publicly traded tracked 25% points ahead of the S&P 500 from 2008–2012. While we can't take complete credit for that spread, we know our clients would say that we have contributed to their success.
Network Description
Arnold Worldwide is a wholly-owned subsidiary of Havas Worldwide, the world's sixth largest communications group. Headquartered in Paris, Havas has three operating divisions: Arnold Worldwide, Havas Worldwide, and Havas Media. Havas is present in over 75 countries through its networks of agencies.
Local Representation
Arnold Worldwide has offices in 9 countries worldwide. You can find us in Boston, London, Madrid, Milan, New York, Prague, São Paulo, Shanghai, Sydney and Toronto.
Trade Organizations
AAAA (American Association of Advertising Agencies) (AAAA)
New England Electronic Media Association (NEMA)
New England Direct Marketing Association (NEDMA)
Institute of Sales Promotion (ISP)
Institute of Practitioners in Advertising (IPA)
Direct Marketing Association Ltd. (DMA)
Direct Marketing Association (DMA)
Boston Idea Group (formerly Advertising Club of Greater Boston) (BIG)
American Advertising Federation (AAF)
Advertising Educational Foundation (AEF)