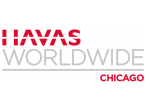 Havas Worldwide Chicago ,
Chicago
Follow
Update
36 East Grand Avenue
Chicago, Illinois 60611-3506
United States
Phone: (+1) 312.640.6800
Fax: (+1) 312.640.6801
Philosophy & Competitive Advantages
ABOUT US
hi. we're Havas Worldwide Chicago. a responsibly passionate creative shop. we're part of a great network. (recently Ad Age "global agency of the year") and in 2008, we were ranked the #1 office in our network. essentially, we have the creativity of a boutique, with the scale and discipline of a network.
OUR PHILOSOPHY
at Havas Chicago, we believe brands have to embrace culture - or be forgotten.
Culture is the connection that exist between all of us. It is fluid and flexible. It effects everything we do... and most importantly, culture can be affected by what we do at Havas CHI. We are the student, teacher and creator of culture. As students, we learn what is happening and will happen in culture. As teachers, we inspire others to embrace where culture is going. And as creators, we create ideas that becomes cultural currency. Ideas that people want to play with, pass on and participate with.
Through our unified marketing approach, we build culturally relevant brand experiences that move people to action. We make people care. Make people want. Make people buy.
And make people advocate for our brands.
BEYOND INTEGRATION. IDEA UNIFICATION.
we are a true hybrid agency marrying below-the-line with above-the-line all under one roof with one management team and one p&l. we began practicing it as a necessity from the ground up and a magical thing happened—creative that is truly accountable to businesses and ourselves.
Network Description
for the past 20 years, Euro RSCG has been a part of the world's fifth largest agency network, Havas. Earlier this year, Havas CEO David Jones unveiled a new global structure for the Havas Group, which includes the rebranding of Euro RSCG Worldwide to Havas Worldwide. The rebranding is a commitment to our simpler and more transparent corporate structure and unified culture, reinforcing Havas's position as the most integrated of all the major communication holding companies in the world.
Trade Organizations
Direct Marketing Association (DMA)
American Advertising Federation (AAF)
Point of Purchase Advertising International (POPAI)
International Advertising Association (IAA)
Outdoor Advertising Association of America (OAAA)
Public Relations Society of America (PRSA)
Strategic Account Management Association (SAMA)
Advertising Research Foundation (ARF)
Project Management Institute (PMI)