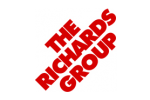 The Richards Group,
Dallas
Follow
Update
8750 North Central Expressway
Dallas, Texas 75231-6437
United States
Phone: 214 891 5700
Fax: 214 891 5230
Philosophy & Competitive Advantages
All advertising agencies make ads, some better ads than others, and a few agencies consistently create the most powerful communications. But what separates the agencies that consistently produce the very best work? It's the way they think about their obligation to their clients and the way they go about meeting it. The Richards Group is devoted to building brands in all forms of communication at every contact point. We've assembled all the important resources an agency should offer, as well as services agencies 10 times our size can't or won't. Our full service capabilities include: Advertising & Marketing, Hispanic/Ethnic Marketing and Advertising, Relationship Marketing/Direct Marketing, Public Relations, Public Affairs, Sales Promotion, Naming, Graphics Design, Interactive Communications, Employee Brand Training and Employee Selection. Our mission is to do great work. Make a difference. Have fun. And along the way, become the best advertising agency in the world.
Trade Organizations
American Association of Advertising Agencies (AAAA)
LIAN Media Association