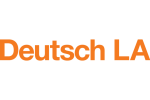 Deutsch LA,
Los Angeles
Follow
Update
5454 Beethoven Street
Los Angeles, California 90066
United States
Phone: (+1) 310 862-3000
Fax: (+1) 310 862-3100
HTC creates video and audio experiential campaigns to show off HTC One smartphone
May 7, 2012
As the new HTC One smartphone reaches the hands of consumers across the country this week, we wanted to help people learn just how amazing the camera and audio experiences really are. So we worked with HTC to sponsor events that show them off.
• To celebrate the authentic sound of HTC One, which includes Beats audio, we helped create a socially-driven concert series: "HTC One Presents Social Sounds on VEVO." Fans can only gain admission by reposting or retweeting about the series, and the footage will be shown on VEVO, YouTube, and Facebook. The series will kick off with rapper Kendrick Lamar on June 4 in New York.

• In order to showcase HTC One as a tool for aspiring filmmakers, HTC is the presenting sponsor of the 24 Hour Film Race ( http://www.filmracing.com/24/24hourfilmrace.htm )—a nationwide competition that challenges filmmakers to create short films in just 24 hours. The competition, taking place May 18-19, requires participants to follow a secret theme and incorporate other surprise elements that will be revealed at the start of the race. Finalists will be featured on HTC's Facebook page where consumers can vote for the "HTC Fan Favorite."

• Director Frank Hannah of The Cooler ( http://www.imdb.com/name/nm1172243/ ) will participate in the race against the clock, writing and shooting a four-minute film in just 24 hours using only an HTC One smartphone. He describes the HTC One picture quality as "striking," noting, "I know what this HTC One camera can do, and I want to show the world."