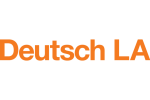 Deutsch LA,
Los Angeles
Follow
Update
5454 Beethoven Street
Los Angeles, California 90066
United States
Phone: (+1) 310 862-3000
Fax: (+1) 310 862-3100
VIDEO: Why Agency People Really Leave Their Jobs in Advertising
June 13, 2012
Each year, a third of the agency work force will move to new jobs. Deutsch LA execs will speak next week at Cannes Lions ( http://www.canneslions.com/the_festival/festival_programme/event.cfm?event_id=81 ) about ways to hold on to advertising people, and unveil a new talent retention study we created with the 4As.
Why do agency people leave their jobs? The funny, profane videos below show what agency employees (at some fictional agency, naturally) really say about life in the advertising business—or at least as much of that as we can show. Watch them for yourselves, but here's a preview: account people want more credit, creatives want fewer rounds of edits, and producers want creative to stop thinking so much about sushi.
The videos:
What creatives really think about advertising: http://youtu.be/EuaNUqswpI0
What account people really think about advertising: http://youtu.be/vzCWVKu-QSQ
What producers really think about advertising: http://youtu.be/gd0JVWBbV8g
If you're in Cannes, make sure to watch the session and schedule some time with our execs.
"Ending the Agency Talent Rotisserie"
Michael Sheldon, CEO, and Kim Getty, Partner and Director of Account Management
Cannes Forum, Monday June 18, 14:00-15:00.