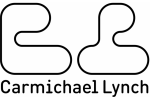 Carmichael Lynch,
Minneapolis
Follow
Update
110 North Fifth Street
Minneapolis, Minnesota 55403
United States
Phone: (+1) 612-334-6000
Fax: (+1) 612-334-6090
Carmichael Lynch art director receives prestigious ADC Young Guns 10 Award
November 12, 2012
Carmichael Lynch art director Phil Jones is one of just 34 creative people worldwide to win this year's prestigious Young Guns Award from the Art Director's Club of New York. ADC Young Guns is the industry's only international, portfolio-based awards competition, and recognizes today's vanguard of creative professionals under the age of 30. The 2012 competition was the smallest, most fiercely judged Young Guns class in history, drawing entries from 21 countries around the world.
A jury of past Young Guns winners selected Jones' design work. The six projects chosen from his portfolio for display at a recent New York Gallery showing were: Stampler, Wake, Mr. Tee, Bug Memorials, Censorship Towel and Piñata Anatomy.
Three of the winning Young Guns entries were projects Jones created for the Carmichael Collective, an ongoing project from Carmichael Lynch that celebrates creativity for creativity's sake. Bug Memorials, Censorship Towel and Piñata Anatomy have been seen across the world and have generated over 84 million media impressions. "The main takeaway from the Carmichael Collective has been our understanding of how to successfully spread relatively inexpensive, quick-turn projects throughout the connected, social media world," said Dave Damman, chief creative officer at Carmichael Lynch. "More and more of our clients are looking for this kind of high concept yet low budget work and we're proud to have people like Phil who can make it happen."
"The Carmichael Collective allows me to experiment with different processes and techniques, which I can learn from and apply to our current clients," said Jones. "I wasn't formally trained to do any of this, it just happened from trying and often times failing. I've learned in order to strive in this industry, you can't allow fear of failure limit your creativity."