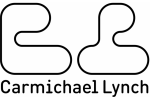 Carmichael Lynch,
Minneapolis
Follow
Update
110 North Fifth Street
Minneapolis, Minnesota 55403
United States
Phone: (+1) 612-334-6000
Fax: (+1) 612-334-6090
Subaru dogs take center stage during Puppy Bowl IX
February 7, 2013
Dogs love Subaru vehicles as much as their owners do. So we asked ourselves, where do dogs go to get a Subaru? Our latest "Dog Tested. Dog Approved." campaign that aired during Animal Planet's Puppy Bowl IX, answers just that. The 12.4 million viewers that tuned in on Sunday were introduced to a new cast of dogs and Grant Weber, the beloved Subaru Canine Sales Associate, whose job is to sell cars to dogs. We also created a Facebook app that lets fans video chat with a canine expert, get their dog a driver's license and match the perfect Subaru to their dog's breed. Because we know once you sit in a Subaru, you'll stay.
View the campaign here: 2013 Dog Tested. Dog Approved.