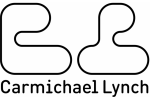 Carmichael Lynch,
Minneapolis
Follow
Update
110 North Fifth Street
Minneapolis, Minnesota 55403
United States
Phone: (+1) 612-334-6000
Fax: (+1) 612-334-6090
First Car Story is an Effie Award winner
March 14, 2013
We're humbled that our "First Car Story" for Subaru of America was just announced as a winner in the 45th annual Effie Awards. Trophy levels – gold, silver and bronze – will be revealed and celebrated at the 2013 North American Effie Awards Gala on May 22 in New York City.
Advertisers and agencies around the world recognize the Effie as one of the preeminent awards in the industry. It represents the pinnacle in advertising effectiveness: ideas that work.