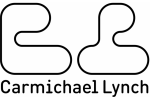 Carmichael Lynch,
Minneapolis
Follow
Update
110 North Fifth Street
Minneapolis, Minnesota 55403
United States
Phone: (+1) 612-334-6000
Fax: (+1) 612-334-6090
Transforming Urban Fabric to Art
March 26, 2013
Rusty, a 100-year-old landmark water tower, proudly sits on the roof of our agency. We have utilized this ubiquitous yet often ignored city element as a way to project public art to the community. This year we partnered with the Minneapolis College of Art and Design to create a new loop of mapping projections. These unique experiences of light and vision are now open for the public's viewing pleasure.
View video here: http://carmichaellynch.com/news/transforming-urban-fabric-to-art