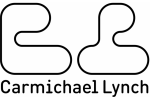 Carmichael Lynch,
Minneapolis
Follow
Update
110 North Fifth Street
Minneapolis, Minnesota 55403
United States
Phone: (+1) 612-334-6000
Fax: (+1) 612-334-6090
Fallon creatives Peck and O'Leary follow Damman to Carmichael Lynch
April 3, 2013
Ryan Peck and Scott O'Leary today joined Carmichael Lynch in the role of creative directors. The agency's recent new business wins have prompted a surge of high-profile hires by chief creative officer and managing partner Dave Damman. The pair joins Goodby Silverstein recruit Marty Senn, who arrived in January as executive creative director.
During their 15-year career at Fallon, Peck and O'Leary created breakthrough campaigns for everything from Travelers Insurance to H&R Block. They are the team behind numerous award-winning efforts, including Cannes Lions, One Show Pencils and Effies.
"Carmichael Lynch is in an aggressive growth phase, and that's creating prime opportunities for top creatives," says Damman. "Ryan and Scott are just the kind of leaders we're after. Smart, talented and really nice guys."