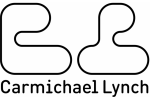 Carmichael Lynch,
Minneapolis
Follow
Update
110 North Fifth Street
Minneapolis, Minnesota 55403
United States
Phone: (+1) 612-334-6000
Fax: (+1) 612-334-6090
The Gold Rush: Carmichael Lynch takes home the highest number of gold pins from The Show
November 14, 2011
Carmichael Lynch had an impressive night at The Show awards ceremony that took place mid-November at Epic Event Center. We were the second-most-awarded agency with an impressive 23 awards. We hauled away the most gold pins, 11 in all, as well as five silver, three bronze and four merit awards in the digital, print and TV categories. "We are humbled as an agency and thrilled for our clients to see our creative work being recognized by our peers," said Dave Damman, Executive Creative Director.