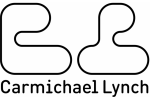 Carmichael Lynch,
Minneapolis
Follow
Update
110 North Fifth Street
Minneapolis, Minnesota 55403
United States
Phone: (+1) 612-334-6000
Fax: (+1) 612-334-6090
Carmichael Lynch on Advertising Age's Best Places to Work List
April 17, 2012
Advertising Age ranked Carmichael Lynch No. 29 on its third annual Best Places to Work in Marketing & Media list. The list celebrates the top 40 firms in the nation based on an employee survey that measures aspects of the workplace environment that contribute to an engaged staff. Carmichael Lynch employees rave about the culture, from rooftop concerts to artwork displayed throughout the agency. Carmichael Lynch has made the list twice in the last three years. Click here to read the article http://brinx.it/UEM.