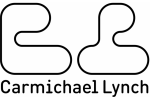 Carmichael Lynch, Inc.,
Minneapolis
Follow
Update
110 North Fifth Street
Minneapolis, Minnesota 55403
United States
Phone: 612-334-6000
Fax: 612-334-6090
Art is everywhere
June 5, 2012
Art is everywhere, and on June 9th, it's staying out past curfew. Join us all throughout Minneapolis from 5 pm until 5 am as the night becomes bright and alive with art. We've also created a free app that you can download to help navigate your way through the installations. #NSPK.