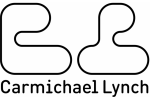 Carmichael Lynch,
Minneapolis
Follow
Update
110 North Fifth Street
Minneapolis, Minnesota 55403
United States
Phone: (+1) 612-334-6000
Fax: (+1) 612-334-6090
Carmichael Lynch hires Michael Rogers as ACD
October 11, 2011
Michael Rogers is a new hire, but not a new face to many at Carmichael Lynch. In his 15 years in the Minneapolis advertising industry, Rogers has become a well-known and award-winning art director. He hopes to continue his creative success with his work at Carmichael Lynch as an associate creative director on the Subaru of America account.