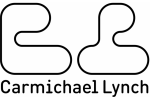 Carmichael Lynch,
Minneapolis
Follow
Update
110 North Fifth Street
Minneapolis, Minnesota 55403
United States
Phone: (+1) 612-334-6000
Fax: (+1) 612-334-6090
"Sasquatch for President" wild postings found across the nation's woodlands
September 13, 2012
The 2012 election is drawing near. While President Obama has a strong hold on traditional blue states like California and Illinois and Mitt Romney will likely secure the American Panhandle, Sasquatch has clinched a more elusive vote, that of our nation's woodland creatures. Not only is the majority of the snacking population supporting the popular Jack Link's advertising icon, but also his furry friends. Tiny "Sasquatch for President" campaign signs have been popping up everywhere from robin nests to beaver dams. The animals obviously have their minds made up. Do you?
Become a Sasquatch supporter and download the Sasquatch for President screensavers here: Sasquatch for President
And don't forget to vote!