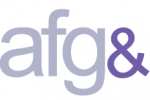 1 Dag Hammarskjold Plaza, 35th Floor
New York, New York 10017
United States
Phone: (+1) 212 832 3800
Fax: (+1) 212 486 6518
AFG Campaign to reach vacationers for Dramamine launches
June 22, 2012
We are thrilled to see the AFG& campaign for Dramamine being covered in today's New York times.
We're proud to see our strategy and creative work being covered and to see mentions of our key agency partners.
The power of the "Unlimited Partnership" in action; great work across outdoor, ambient media, with an app that we developed spanning several agencies working together with one goal.