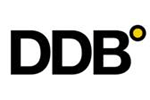 DDB Worldwide Inc.,
New York
Follow
Update
437 Madison Avenue
New York, New York 10022-7001
United States
Phone: 212 415-2000
Fax: 212 415-3414
DDB Worldwide Expands Successful Talent Development Program Globally
November 13, 2012
New York, NY (November 12, 2012)– DDB Worldwide (www.ddb.com) is pleased to announce the global expansion of its successful LaunchPad talent development program with 14 participating agencies across DDB's network of international offices, effective January 2013. Designed to bridge the gap between student and professional creatives, LaunchPad is a three-month internship program at DDB for students and young creatives working towards their first big break in the industry. The staggered rollout for the program includes DDB offices in New York, Sydney, Singapore, Chicago, Miami, San Francisco, Dubai, Istanbul, Helsinki, Johannesburg, Berlin, Sao Paolo, Buenos Aires and Shanghai.