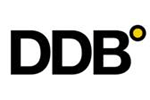 DDB Worldwide Inc.,
New York
Follow
Update
437 Madison Avenue
New York, New York 10022-7001
United States
Phone: 212 415-2000
Fax: 212 415-3414
DDB Dubai Picks Up Two Golds, Five Silvers, Four Bronze at the Dubai Lynx Awards 2013
March 20, 2013
Dubai, United Arab Emirates, March 20, 2013 – The Dubai Lynx International
Festival of Creativity announced its winners at the award ceremony on March 13,
2013. The Dubai Lynx Awards honor the region's best work in advertising. Dubai
Lynx is part of the Lions Festivals stable, which includes Cannes Lions, Spikes
Asia, Eurobest and the Asia Effectiveness Awards.