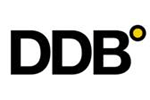 DDB Worldwide Inc.,
New York
Follow
Update
437 Madison Avenue
New York, New York 10022-7001
United States
Phone: 212 415-2000
Fax: 212 415-3414
DDB China Group wins Bentley in China
March 22, 2013
Shanghai, March 14, 2013 - DDB China Group is awarded the creative lead agency role for Bentley Motors China, following a competitive pitch against three undisclosed agencies. The win signifies the agency as the first creative lead agency to be appointed in China. Bentley's global headquarters primarily managed previous communications prior to the appointment.