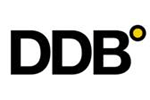 DDB Worldwide Inc.,
New York
Follow
Update
437 Madison Avenue
New York, New York 10022-7001
United States
Phone: 212 415-2000
Fax: 212 415-3414
ANDREW MCKECHNIE JOINS DDB NEW YORK AS GROUP CREATIVE DIRECTOR
April 22, 2013
New York, NY April 22, 2013 – DDB Worldwide, a division of Omnicom Group (NYSE), announced today that Andrew McKechnie has joined DDB New York as Group Creative Director, effective immediately. In this new position, McKechnie will oversee the global Reebok account, where he will be responsible for leading the creative output. He reports directly to Matt Eastwood, Chief Creative Officer of DDB New York.