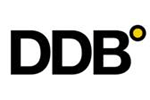 DDB Worldwide Inc.,
New York
437 Madison Avenue
New York, New York 10022-7001
United States
Phone: 212 415-2000
Fax: 212 415-3414
Country Phone Code: 1
DDB's Minerva Garcia Wins AAF Diversity Achievement Award For Diversity Efforts
August 17, 2010

New York, NY, August 10, 2010 -- DDB announced today that DDB New York Human Resource Manager Minerva Garcia has been awarded the Diversity Achievement Award for Educator by the American Advertising Federation (AAF). The yearly Diversity Achievement and Mosaic Awards presentation honors companies and individuals that have demonstrated innovative efforts in multicultural marketing and advertising. The Educator category is designed to recognize an individual who has increased awareness of the aspirations, obstacles and performance of minority groups among the general population.