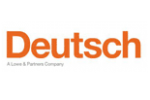 111 Eighth Avenue 14th Floor
New York, New York 10011
United States
Matthew George Joins Deutsch as SVP, Director of Communications Planning
November 7, 2012
November 7, 2012 New York – Deutsch NY Partner, Director of Business Insights and Communications Planning, Anush Prabhu, announced today that Matthew George has joined the Agency's ever-growing Data Strategy and Communications Planning department. George is taking on the role of SVP, Director of Communications Planning, working on a range of clients, including Microsoft, PNC, and MilkPEP. Previously with JWT, George's first day at the Deutsch NY was Monday, November 5.
"We believe there is a science and an art to determining how ideas are best taken to market to deliver the most impactful business results—Matthew is a seasoned master of that science and art," said Prabhu. "We are glad to have him on board, helping us bring that thinking up front."
As Group Planning Director, Communications Architecture at JWT New York, George spent close to nine years championing the Communication Planning discipline. During his tenure there, he developed and drove proprietary multichannel solutions for domestic and global clients, including JetBlue, Nestle, De Beers, Corporation for Travel Promotion ("Brand USA"), Johnson & Johnson, Pfizer, and Bayer.
Prior to JWT, George was EVP, Group Director at Initiative Media, and also spent two years at BBH New York as Media Director/Managing Partner and part of the agency's early U.S. start-up arm (he was employee #14).
George began his career at Grey New York, where he spent close to 17 years honing his craft and establishing an agency subsidiary dedicated to media-only accounts, including P&G, London Fog, and People Magazine.