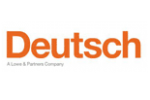 111 Eighth Avenue 14th Floor
New York, New York 10011
United States
Mother, Digitas, Organic Alum Rey Peralta Joins Deutsch NY
March 5, 2013
As SVP, Director of Creative Technology
March 5, 2013 - Deutsch NY Chief Creative Officer & Partner, Greg DiNoto announced today that the Agency has hired Rey Peralta as the SVP, Director of Creative Technology.
Peralta joins us from Mother, where he was the Director of Creative Technology since 2009. While he was there, he worked on several digital projects including, the launch of the Sour Patch Kids video game for Xbox, Sony PlayStation, iOS, and Android phones. In addition to leading digital work on accounts such as New Balance, Devo, Stella Artois, Google, JC Penny, and RIF.
"Rey is entrepreneurial, irrepressible and he gives added dimension to what we do creatively and strategically -- and he makes some very cool stuff…Proud to have him," said DiNoto.
Additionally, he has held key positions at agencies including, Euro RSCG MVBMS and Digitas, as well as served as a consultant for agencies such as, BBDO, Y&R, DraftFCB, Organic and McCann Erickson.
###