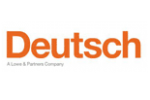 111 Eighth Avenue 14th Floor
New York, New York 10011
United States
Deutsch NY Names Kerry Keenan Chief Creative Officer
September 20, 2013
Deutsch New York CEO Val DiFebo announced today that Kerry Keenan has been hired as Chief Creative Officer and Partner. "Kerry is a live wire: she is a source of inspiration, sharp and passionate about this business and has an adventurist spirit. We believe Kerry will be a strong addition to the team," noted DiFebo.
Keenan has built a reputation for creating innovative work that crosses and combines all mediums and connects with consumers. During her career she has specialized in creating and producing high profile branded content, including: producing 'Y'all vs Us: Head to Head', a docu-drama series distributed nationally by Fox Sports Net for Cellular South, staging a major mock protest for client Ikea that went viral, creating an invisible pop up store for Airwalk, and developing a series of shorts for MTV2 called 'Maturity is Overrated.' Her work on numerous blue chip businesses have earned quite a bit of attention and hardware including: Gold Cannes Lions, D&AD Pencils, Gold Andy's, Gold One Show Pencils, Webby's, AICP Best of Show and others.
"I have always admired Deutsch's distinct and entrepreneurial culture. I have a tremendous amount of respect for Val who has been able to do what few others have — keep all agency offerings under one roof, allowing one team to solve problems together and generate the best ideas together," said Keenan. "The partners are a group of smart, fun, and super passionate people who genuinely like each other and will roll up their sleeves and push each other to make the work great. I can't wait to be a part of it."
"Kerry has a fresh, collaborative grass roots approach to unearthing big, high profile creative ideas," said DiFebo. "A highly regarded and respected creative, Kerry has what it takes to create a groundswell of growth and brand building work for our clients."
Keenan takes over the CCO position from Greg DiNoto. "Greg has been a great contributor in both tours of duty at Deutsch and we fully support and wish him great success in his next chapter," said DiFebo.
In the past year under DiFebo's leadership, Deutsch NY has intentionally recruited a team of Partners that have an incredible passion for our creative business solutions, entrepreneurial drive, and a business bias focus that will make a real impact on clients. In addition to Keenan, Brent Vartan was tapped as Chief Strategy Officer, Anush Prabhu to Chief Channel Planning & Investment Officer, and Michael Goldberg Chief Marketing Officer.
Keenan will join the agency on September 30th.
Keenan Background
Entrepreneurial at heart, Deutsch scooped Keenan up from Half Irish which she co-founded earlier this year with Emmy winning producer Nathy Aviram. Half Irish specializes in branded and original content. Prior to Half Irish she was at Y&R, as Global Executive Creative Director and Founder of YR Entertainment. Prior to Y&R Keenan was an ECD and Head of TV at Saatchi & Saatchi where, under her leadership JC Penney experienced its 2007 turnaround and P&G's Crest became the most awarded brand in 2008.
She has consistently produced great work across categories, for major brands including Land Rover, Frito Lay, Polaroid, McDonald's, Cold Stone Creamery, Sony, Cellular South, and Virgin Atlantic, to name a few. She has worked at agencies including BBDO, Leo Burnett, and BBH. While at Leo Burnett, Keenan was tapped to run the Poland office — making her the youngest female executive creative director in the network.
Keenan was named an Advertising Age Women to Watch, and cited by Fast Company as the real world 'Peggy Olsen', along with other cast members David Lubars, Sir Martin Sorrell and Donny Deutsch.