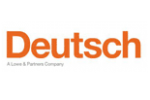 111 Eighth Avenue 14th Floor
New York, New York 10011
United States
CPB, Campfire, BBH and JWT Alum, Suzanne Molinaro, Joins Deutsch NY as SVP, Director of Digital Production; Stephanie Lee-Pang Takes New Title of SVP, Director of Digital Operations Overseeing Departments Growth
May 2, 2012
May 2, 2012 New York – Deutsch NY announced today that Suzanne Molinaro has joined the Agency as SVP, Director of Digital Production. Suzanne will oversee production of digital projects across all accounts, including Microsoft, PNC Bank and Unilever, at the right hand of Joe Calabrese, EVP, Director of Integrated Production. Most recently with JWT New York, she will start at Deutsch on May 7.
"Suzanne brings incredible skill and world-class experience to a vital role at the agency," noted Calabrese. "She's a proven and passionate leader who will boost our game. We're lucky to have her."
With the department experiencing fast-paced growth and to keep up with client demand, Stephanie Lee-Pang will take on the title of SVP, Director of Digital Operations. Stephanie, most recently Director of Interactive Production, has been with Deutsch since 2004. "Stephanie knows the ins-and-outs of Deutsch like no other, she is exceptionally talented at managing the workload and identifying resources before they are needed," said Erica Grau, Partner, Chief Operating Officer, Deutsch NY.
Suzanne Molinaro Background Info
Suzanne's extensive creative digital experience and expertise includes hands-on production of apps, games, augmented reality, social media, mobile, sites and online advertising for an impressive array of clients, including Nike, Ford, Target, Google Chrome, Sprite, Johnson & Johnson, Discovery, Verizon, and Macy's, among others. Outside of the digital realm, Suzanne has also produced broadcast TV spots and television series.
Most recently serving as Director of Digital Production at JWT New York, Suzanne has held production posts at several other top shops over the course of her career, including time with BBH NY, Crispin Porter + Bogusky in Boulder, and Big Spaceship.
Suzanne's work has been recognized with multiple industry awards, including Cannes Gold, The One Show, Clio's, AICP Next Awards, Communication Arts, D&AD, Andys, Webbys, and The FWA.
Stephanie Lee-Pang Background Info
During Stephanie's eight years with the Agency, she has worked on clients including Microsoft, PNC, Johnson & Johnson, Novartis Worldwide, IKEA, Bank of America and USAA. Under Stephanie's watch several industry firsts have been accomplished, including: One of the first iAd's (Directv NFL Sunday Ticket), and one of the first iPad ads (PNC Virtual Wallet Real Life).
Prior to Deutsch, Stephanie was program manager for the e-Commerce unit of LEGO Direct. She has also worked at Agency.com and Grey for clients including Liz Claiborne, Intel, Pepsi-Lipton and Kmart. Along the way, she has picked up numerous Webby accolades, Interactive Media Awards and FWA.