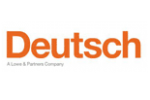 111 Eighth Avenue 14th Floor
New York, New York 10011
United States
Anush Prabhu Joins Deutsch NY As Partner, Director of Insights and Communications Planning
May 31, 2012
May 31, 2012 New York—Deutsch New York CEO Val DiFebo announced today that Anush Prabhu has 'boomeranged' his way back to Deutsch NY, this time as Partner, Director of Insights and Communications Planning. Joining from mcgarrybowen, his first day at Deutsch will be June 4.
"I'm thrilled to have Anush in a leadership role at Deutsch," said DiFebo. "Measurement and accountability have always been key drivers for our work, and our clients. With Anush on board, we'll continue to refine and build out measurement tools and ROI models that provide critical evaluation of marketing opportunities."
"I'm excited to be back at a place with people who understand the firepower of analytics and communications planning. When you have a seat at the table you have a greater impact, and it further solidifies Deutsch's commitment to creative business solutions," said Prabhu.
Prabhu originally joined Deutsch NY in 2000, and in 2007 as VP, Director of CRM Strategy, left to join JWT. At JWT, Prabhu was Group Planning Head, where he started an analytics group and codirected communications planning while working on clients including Johnson & Johnson, Royal Caribbean, Microsoft, Cadbury and UnitedHealth Group. In 2010, Prabhu joined mcgarrybowen as Managing Director, Communications Planning & Analytics. Over the next two years, he built the two disciplines of analytics and communications planning from scratch, working on clients including JPMorgan Chase, Verizon, United Airlines, Sears and Marriott.