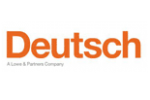 111 Eighth Avenue 14th Floor
New York, New York 10011
United States
Brent Vartan Takes on Role of Partner, Chief Strategy Officer at Deutsch NY
June 5, 2012
June 5, 2012—NEW YORK—Val DiFebo, CEO of Deutsch NY, announced today that Brent Vartan has been promoted to Partner, Chief Strategy Officer from EVP, Director of Strategic Planning. "Brent is an intellectual superpower and a forward thinker who has lead and championed great insights for our clients that push and test marketing boundaries," said DiFebo.
"Deutsch is a truly unique place; we do things a bit differently here," said Vartan. "I find myself in lockstep with an ethos that is built on business solutions before all else. I am thrilled to be leading Strategic Planning at Deutsch NY, and looking forward to building continued client and Agency success."
Leading account planning since 2010, and now replacing the position most recently held by Bert Moore, Vartan joined the Agency in 2008. He's been responsible for uncovering the DNA and strategic inflection points for brands including Microsoft and Novartis, and has been instrumental in generating business growth. DiFebo noted, "Brent is the real deal; he is smart, likable and trusted by everyone at Deutsch and our clients. You don't find that too often."
Vartan has over 14 years of industry experience working on brands including Starwood, IKEA, Monster.com, USAA, Lay's, Lowe's and the NFL to name a few. Prior to Deutsch, he worked at BBDO New York, and also spent time at both Hill Holliday and Goldberg Moser O'Neill.