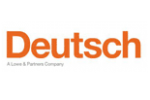 111 Eighth Avenue 14th Floor
New York, New York 10011
United States
Deutsch NY's own Ethan Bull releases novel: World War Hack
June 8, 2012
Ethan Bull, Deutsch New York executive assistant by day, graphic-novel writer and creator by night, has just released World War Hack, a graphic novel published by @vipercomics.
Inspired by true events, World War Hack tells the story of how the U.S. Government gathers top computer hackers from around the country, under the guise of a hacking competition, to unknowingly help solve a pressing national security crisis. Little does the government know that eighteen-year-old hacker, Wyatt Dyer (@wwhack) is both the cause and the solution to their crisis.
Download a FREE digital copy — today only — HERE: http://bit.ly/KAZLaa
You don't want to miss this adventure!
And be sure to check the Deutsch Blog (http://blog.deutschinc.com) next week as Ethan gives us a detailed look inside the making and marketing of World War Hack.