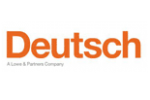 111 Eighth Avenue 14th Floor
New York, New York 10011
United States
Mother, Vigilante, Leo Burnett Alum Shobha Sairam joins Deutsch NY as SVP, Group Planning Director
August 13, 2012
August 13, 2012 New York – Brent Vartan, Partner, Chief Strategy Officer, announced today that Shobha Sairam has joined the agency as SVP, Group Planning Director working on MilkPEP and new business efforts. Most recently with Mother New York, Shobha's first day at Deutsch will be Wednesday, August 15.
"I couldn't be happier about Shobha coming to join our gang of Planners here at Deutsch," said Vartan. "She has an infectious energy, an ambitious spirit, and tremendous integrity. Oh, and she's scary smart, too."
As Group Strategy Director at Mother, Sairam headed strategy on JCP, Johnson & Johnson, and Kraft brands, while also involving herself in other aspects of the business, including strategy development, briefings, account management, and production.
"I'm very excited to join the Deutsch crew," said Sairam. "As soon as I met the people, I knew it was a perfect fit; they're funny, talented, driven, and warm. Plus, it means I can walk to work again — if I'm wearing the right shoes."
Throughout her career, Sairam has worked with an impressive array of clients including Coca-Cola, Liz Claiborne, 10 Cane Rum, Cadbury's Sour Patch Kids, Heineken, and Kellogg's. Prior to Mother, she held posts at Leo Burnett and Vigilante NYC.
Her work has been recognized with numerous industry awards, including London International awards, Regional and National Addys, and a ANA Award of Excellence for Multi-Cultural Advertising.