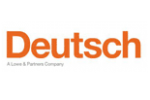 111 Eighth Avenue 14th Floor
New York, New York 10011
United States
Matt McKay joins Deutsch NY as SVP, Group Creative Director
September 5, 2012
September 5, 2012, New York – Deutsch NY Partner and Chief Creative Officer Greg DiNoto announced today that Matt McKay has joined the agency as Senior Vice President, Group Creative Director. Having started at Deutsch yesterday (9/4), Matt will work on several agency accounts, including Microsoft and new business efforts.
DiNoto noted, "Matt is a real creative talent with an excellent body of work behind him. He's passionate about the work, and it shows. We're happy to have him join the team."
Matt created the award-winning "Two Guys" campaign for Sonic Drive-In, an idea that became one of the most-recognized campaigns in the fast food industry. He also worked on the "What Happens Here Stays Here" campaign for Las Vegas and on brands like Gillette, Mercedes Benz, and Tic Tac. Matt was most recently Creative Director at JWT New York, where he led creative on Stride Gum, Trident, and Halls cough drops. Prior to JWT, he held posts at Merkley and Partners, R&R Partners in Las Vegas, and Barkley in Kansas City, MO.
With over 18 years experience in the industry, Matt's work has been recognized by Cannes Lions, Clio Awards, Radio MercuryAwards, Communication Arts, and the One Show.