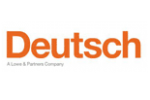 111 Eighth Avenue 14th Floor
New York, New York 10011
United States
Torsten Gross Loins Deutsch NY as SVP/Group Planning Director
October 5, 2012
R/GA's Torsten Gross Joins Deutsch NY as SVP, Group Planning Director
October 5, 2012 – Deutsch NY Partner, Chief Strategy Officer Brent Vartan announced today that the Agency has hired Torsten Gross as SVP, Group Planning Director on the Microsoft Office business.
Most recently at R/GA, Gross is the latest senior hire in a rapidly growing and developing strategic team steered by Vartan. "I'm super excited Torsten has joined the crew. Torsten is an independent thinker who has a unique ability to turn ambition into action that inspires both creatives and clients alike," said Vartan.
As Group Planning Director at R/GA, Gross oversaw a portfolio of marquis brands, including Verizon Wireless and Telecom, Pfizer, AARP, PwC and Televisa.
Prior to his tour at R/GA, he founded and later sold FatBaby Innovation, a consultancy recognized for its unique business model. Gross' marketing expertise stems from time spent shaping communications positioning and business strategy for brands like Bank of America, Motorola, and The Christopher and Dana Reeve Foundation at BBDO NY and media agency PHD. Torsten's expertise in innovation can be traced back to his time as Director of Strategy at Fahrenheit 212 where he worked on developing new products and services for clients like Coke, Capital One, and Starwood that helped redefine their positions in their respective marketplaces.
Gross is chairman and a founding member of Host For Good, an organization that helps host fundraising events for other charities. A graduate of Hofstra University and the Miami Ad School.