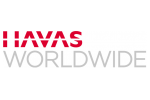 Havas Worldwide HQ,
New York
Follow
Update
200 Hudson Street
New York, New York 10013
United States
Industry Leaders Look to Future at Euro RSCG Panel on "Trends for 2011.5 and Beyond"
June 16, 2011
From the demise of Osama Bin Laden to the disaster in Japan, 2011 has been full of surprises—and we're only halfway through. What's in store for the rest of the year?
Renowned trendspotter Marian Salzman, CEO of Euro RSCG Worldwide PR, North America, turned her forecasting eye to the latter half of 2011 at a breakfast presentation today. Following her remarks, Salzman was joined by Jeff Chu, articles editor, Fast Company, and Ed Saunders, group marketing director, Google Creative Lab, in a roundtable discussion moderated by Jeff Brooks, CEO of Euro RSCG New York. The event took place at the agency's headquarters in New York City.
"We are living in uncertain and ever-changing times," Salzman said, "and we're seeing the natural reaction to that uncertainty take two forms: anxiety over potential impending disasters, whether natural, political, or economic, and a desire to simplify our aesthetic and 'go local' in a digital, thoroughly interconnected way."