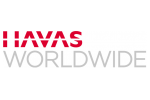 Havas Worldwide HQ,
New York
Follow
Update
200 Hudson Street
New York, New York 10013
United States
Euro RSCG Worldwide Announces Winners of Tenth Annual Creative Business Idea Awards
May 4, 2011
Global youth forum One Young World (www.oneyoungworld.com) has been awarded the gold at Euro RSCG Worldwide's tenth annual Creative Business Idea® Awards. The initiative was voted the year's best by a panel made up of 29 search consultants from around the globe.
One Young World is the premier global forum for up-and-coming leaders and has been cited in the media as the "young Davos." Each year, it brings together motivated youth from more than 100 countries for two days of leadership forums, discussion, and learning. The inaugural summit was held in London in 2010, drawing 823 delegates from 112 countries. Kofi Annan, Sir Bob Geldof, Muhammad Yunus, Archbishop Desmond Tutu, and other counselor-facilitators worked with the delegates to develop a half dozen resolutions addressing what they identified as the most pressing issues the world faces. The young participants returned home energized and empowered to make a difference in their local communities and internationally. One Young World is the brainchild of David Jones, global CEO of Havas and Euro RSCG Worldwide, and Kate Robertson, U.K.group chairman of Euro RSCG. The second summit will be held in Zürich, Switzerland in September 2011.
Bringing in the silver at this year's CBI Awards is Dulux's "Let's Color" project, by Euro RSCG London. As part of the campaign, groups of volunteers work with local communities on public painting projects aimed at lifting spirits and reinvigorating neighborhoods. In 2010, the project brought color to communities in need in Brazil, France, the United Kingdom, and India. BETC Euro RSCG in Paris earned a bronze award for their innovative campaign for cable television network 13eme Rue: "Unleash the Criminal Mind in You."