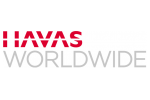 Havas Worldwide HQ,
New York
Follow
Update
200 Hudson Street
New York, New York 10013
United States
Euro RSCG Worldwide Turns Its Social Media Leadership to London for a Royal Wedding Global Tweetup
April 28, 2011
This Thursday, Euro RSCG Worldwide will launch a global Royal Wedding Tweetup. Its team members around the globe, known for their leadership in social media, consumer insights, corporate social responsibility and trendspotting, will offer three days of reports on the social, commercial, charitable and future implications of the massive event—and anyone on ERWW staff, in the media, or from the general public who has a Twitter account and is interested in participating may do so using the #EuroTwedding hashtag to join in on the conversation.
In addition, Euro RSCG Worldwide will debut a Royal Wedding microsite (http://bit.ly/f2xud4) where media can join the conversation and see a curated "best of the world's coverage." The network plans to publish topline findings based on what's discussed on the many hundreds of bit.ly's that will be tweeted with the #EuroTwedding hashtag.