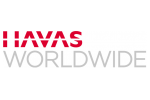 Havas Worldwide HQ,
New York
Follow
Update
200 Hudson Street
New York, New York 10013
United States
Social Media Gives New Dynamic to Relationships
February 14, 2011
Is social media redefining how we find love? That's the theme of a study released today by Euro RSCG Worldwide, the world's largest advertising agency by number of global accounts. The study reports on the impact social media has had on everything from the definition and ease of cheating to the wide-spread acceptance of flirting and finding love online.
For "Love (and Sex) in the Age of Social Media," Euro RSCG surveyed 1,000 respondents in the United States to explore how the digital world, specifically social media, has affected their lives in the areas of love and romance. The survey tackles new realities in love; including the impact social media has on fidelity, the search for which generation is most actively using online connections to find love and the question of whether old-fashioned matchmaking will be a job of the past.
"We used to meet in bars, and restaurants, we now meet on Facebook and Twitter," said David Jones, global CEO of Havas Worldwide and Euro RSCG Worldwide.  "Social media hasn't replaced but has enhanced real world relationships making them faster, more transparent and more authentic."
Love (and Sex) in the Age of Social Media