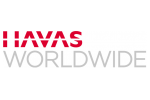 Havas Worldwide HQ,
New York
Follow
Update
200 Hudson Street
New York, New York 10013
United States
Euro RSCG Worldwide Named Largest Global Advertising Agency for Fifth Year in a Row
December 6, 2010
Euro RSCG Worldwide has been named the largest global advertising agency for the fifth year in a row, as measured by total number of global accounts, according to the 2010 Advertising Age Global Marketers Report. Euro RSCG Worldwide maintained its top position in large part due to its continued success in adding global business including the addition of the AMD business, the appointment to Unilever's first global digital roster, new and increased duties on Pernod Ricard, the expansion of key accounts like Peugeot in China and the recent win of the Durex and Scholl business from Reckitt Benckiser.
With 72 global accounts, Euro RSCG Worldwide surpassed the likes of Ogilvy & Mather, McCann Erickson Worldwide, and Young & Rubicam for the top spot.
Of the Top 100 Global Marketers listed in the report, Euro RSCG works with 83 of these brands including Coca-Cola, Danone Group, General Electric, Heineken, Kraft, L'Oreal, McDonald's, Merck, Pernod Ricard, PSA Peugeot Citroen, Reckitt Benckiser, sanofi-aventis, Sony and Walt Disney. These responsibilities are handled out of multiple offices across Euro RSCG's 233 offices globally.