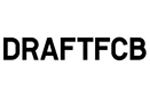 Draftfcb New York,
New York
Follow
Update
100 West 33rd Street
New York, New York 10001-2900
United States
Phone: 212 885-3000
Fax: 212 885-3300
Draftfcb New York Partners with the USDA On Health and Wellness Research for Children
March 22, 2013
NEW YORK, March 22, 2013 — Draftfcb New York has added another high-profile government
account to its roster. Following a review between multiple agencies, the agency snared a
research assignment from the U.S. Department of Agriculture's Food and Nutrition Service
division that will help inform effective and impactful messaging and communications related to
the organization's Child and Adult Care Food Program (CACFP).
CACFP helps child and adult care institutions and family or group day care homes serve nutritious meals and snacks. Draftfcb's research will focus on strategies for communicating with the caregivers who are currently serving the 3.3 million children enrolled at eligible CACFP facilities. The study, according to Andrea Farmer at the Food and Nutrition Service division, is designed to provide insight into child care providers' practices and needs so the USDA can better aid providers in implementing nutrition and wellness recommendations in early child-care settings.
"With childhood obesity dominating conversations, arming the troops on the front lines is an
important step to stem the epidemic," says Jeff Tarakajian, EVP, group management director,
Draftfcb New York. "Draftfcb is thrilled to be part of this important effort."
In January Draftfcb was tapped by the FDA to create campaigns to curb youth tobacco use. The
agency has enjoyed numerous awards for its work on the U.S. Census Bureau's 2010 Census
campaign and for its Above the Influence efforts for the ONDCP.
###