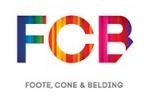 FCB Worldwide,
New York
Follow
Update
100 West 33rd Street
New York, New York 10001-2900
United States
Phone: 212 885-3000
Fax: 212 885-3300
Horizon Draftfcb Dubai appoints Christian Khoury as Executive Creative Director
October 10, 2012
Horizon Draftfcb Dubai is excited to announce the appointment of Christian Khoury as its Executive Creative Director who will now be in charge of operations in Dubai and neighboring Gulf states.

An integrated and holistic thinker, strategist and creative expert, Christian joins the Horizon Draftfcb Dubai team to work across disciplines, and to also lead a starring creative team towards achieving the agency's objectives and expanding its client portfolio.

"Christian is a creative talent with exceptional pedigree and will be a massive asset not just for the Dubai office, but the network as a whole as he drives creative output within our new agency strategy. His creative philosophy and ours combined with an inspiring planning team and an agile, flexible surrounding structure will drive Horizon Draftfcb Dubai and its clients to new growth levels", emphasized Mazen Jawad, Managing Director Horizon Draftfcb.

Christian brings with him more than 16 years of diverse experience in the advertising industry and joins Horizon Draftfcb from Drive Dentsu where he held office since June 2011. As Executive Creative Director at Dentsu, he spearheaded the launch of Toyota 86 in the region through an innovative Augmented Reality game Toyota 86 AR that put the campaign on the global gaming map.

"We were impressed by the Toyota 86 AR campaign. The app offers a fun way of interacting with the car that fits into the brand's propositioning. Now that so many brands have experimented with AR the novelty has worn off and we expect brands to take the technology to new levels, which is what Toyota has done here - making the experience less about the tech and more about the fun it can create." Contagious Magazine, July 25, 2012.

Before joining Drive Dentsu, Christian held the Executive Creative Director position at JWT Dubai. Prior to that, he was Creative Director at Leo Burnett Dubai for a number of years, covering a large and varied portfolio featuring award-winning brands such as Emirates and General Motors, to name just a few.

Christian also took some time off recently to go back to school, and is currently enrolled in the EMBA programme at the Berlin School of Creative Leadership.

Commenting on his new role at Horizon Draftfcb, Christian said, "I am a firm believer that value capturing for an agency and its clients in a sustainable way can only come from continuous innovation in strategy and creative output. For this to happen, the support of a young-spirited, nimble, yet well-established structure that is able to act fast to create and seize opportunity is key. This, I found in Horizon Draftfcb from the early days of my conversations with Mazen, Rona, Alain, and later on with the rest of the team."

About Horizon Draftfcb:
Draftfcb is the first global, behavior-based holistic marketing communications organization to operate against a single P&L. Horizon Draftfcb, part of Horizon Holding, is the Middle East arm of Draftfcb. The agency's regional leadership team includes Rafic Saadeh, Chairman and CEO, Saad Hijjawi, Vice Chairman, Gregory Tikhanoff, President and COO. The Dubai leadership team is driven by Mazen Jawad, Managing Director, Horizon Draftfcb Dubai.