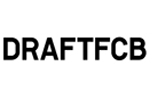 Draftfcb Worldwide,
New York
Follow
Update
100 West 33rd Street
New York, New York 10001-2900
United States
Phone: 212 885-3000
Fax: 212 885-3300
Cheeky Hilux Ad Gets Cheekier
October 28, 2012
The cheeky television commercial featuring the suburban miss who takes on a tougher personality when she uses her husband's Hilux to go shopping just got cheekier with a brand new edit to highlight Toyota's participation in the 2013 Dakar Rally.
View the ad here:
http://www.youtube.com/watch?v=neRg9YCyJqc&feature=youtu.be
Created by Draftfcb Johannesburg, the new advert joins the heroine as she emerges from the shopping centre and bumps into Toyota's Dakar rally driver, Giniel De Villiers.
Having picked up his car keys by mistake, she decides to drive the even more rugged Dakar Rally Hilux home where she – once again – dispatches her husband to the kitchen to make her a sandwich.
Draftfcb Johannesburg sister company, Hellocomputer, has put together a web site for fans to follow the Toyota team's progress:
http://dakar.toyota.co.za
.
About Draftfcb
With an equal focus on creativity and accountability, Draftfcb is committed to producing brilliant ideas that change consumer behaviour. As a global, fully integrated marketing communications agency operating against a single P&L, Draftfcb provides clients with highly collaborative, channel-neutral thinking that delivers engagement and, most importantly, action. With nearly 140 years of combined expertise, Draftfcb has roots in both consumer advertising and behavioral, data-driven direct marketing. The agency's corporate leadership team includes Howard Draft, executive chairman; Laurence Boschetto, CEO and president; Jonathan Harries, vice chairman emeritus & executive advisor, global creative; and Neil Miller, chief operating officer. The Draftfcb network spans 150 offices in 90 countries and employs nearly 9,000 people. The agency is part of the Interpublic Group of Companies (NYSE:IPG). For more information, visit
www.draftfcb.com