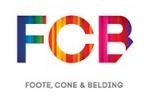 FCB Worldwide,
New York
Follow
Update
100 West 33rd Street
New York, New York 10001-2900
United States
Phone: 212 885-3000
Fax: 212 885-3300
Draftfcb China Launches eBay Style Xiu Lifestyle Platform
November 26, 2012
Draftfcb China has launched a national brand communications campaign to promote eBay Style Xiu, the country's newest mass-fashion lifestyle buying platform.
eBay Style Xiu (ebay.xiu.com), which formally launched this month, is a fully localised buying experience for the Chinesemarket, which brings eBay's best global inventory to Chinese consumers. The platform makes available 500,000 items via 5,000 brands, delivering Chinese consumers access to the largest online selection of fashion and apparel from around the world in a simple and easy shopping experience.
Draftfcb was appointed to build a national communications campaign for the new platform and is using an array of digital channels supported by press advertising to drive awareness of eBay Style Xiu and the capabilities of the new platform.
In addition to offering a comprehensive range of fashion and lifestyle products, the new platform also offers people interactive elements so they can talk to their friends, read some inspiring stories about people and study hints and tips on how people can make the most of their personalities.
"The eBay Style Xiu platform provides people with a comprehensive global shopping environment, but also offers people relevant and personalized information that can apply in their daily lives to complement their fashion interests," said Draftfcb Greater China Chairman and CEO, Pully Chau.
The Draftfcb campaign is targeting fashion trend setters and followers across China.
Included in the digital communications Draftfcb is using for the campaign are a major website, banners, mobile, social media and public relations.
About Draftfcb
With an equal focus on creativity and accountability, Draftfcb is committed to producing brilliant ideas that change consumer behaviour. As a global, fully integrated marketing communications agency operating against a single P&L, Draftfcb provides clients with highly collaborative, channel-neutral thinking that delivers engagement and, most importantly, action. With nearly 140 years of combined expertise, Draftfcb has roots in both consumer advertising and behavioral, data-driven direct marketing. The agency's corporate leadership team includes Howard Draft, executive chairman; Laurence Boschetto, CEO and president; Jonathan Harries, vice chairman emeritus & executive advisor, global creative; and Neil Miller, chief operating officer. The Draftfcb network spans 150 offices in 90 countries and employs nearly 9,000 people. The agency is part of the Interpublic Group of Companies (NYSE:IPG). For more information, visit
www.draftfcb.com