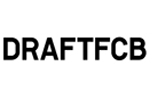 Draftfcb Worldwide,
New York
Follow
Update
100 West 33rd Street
New York, New York 10001-2900
United States
Phone: 212 885-3000
Fax: 212 885-3300
Draftfcb On The Podium At Adfocus 2012
December 2, 2012
Draftfcb South Africa was one of the agencies in the spotlight last week at the prestigious Financial Mail AdFocus 2012 Awards.
Published annually by the South African business weekly, Financial Mail, AdFocus tracks the progress of the industry and its players, and awards those who have achieved greatness during the year at its awards show.
This year, AdFocus 2012 named Draftfcb South Africa CEO John Dixon as its Agency Leader of the Year and awarded Draftfcb Johannesburg ECD Neo Mashigo its New Broom Award.
Before calling Dixon to the podium, editor David Furlonger said that it takes strong leadership to steer a diverse group like Draftfcb South Africa. He asked what makes a real leader in an organisation? Is it the people who make the day-to-day decisions that determine business success or failure? Or is it the person at the very top of the chain, creating the environment that allows executives to flourish?
Furlonger said he believed Dixon fits firmly in the second category and that, in the four years since becoming CEO (he was previously MD of the Johannesburg ad agency), he has done a remarkable job of building on the foundations created by his predecessor.
"It's no coincidence that Draftfcb's agencies are flourishing. But it is the success of clients — the measure by which Dixon says any agency must be measured — that gives the greatest cause for group satisfaction. In the 2012 Sunday Times brands survey, Draftfcb Group clients Toyota, Engen, Koo, Panado, Coca-Cola, Old Mutual, Momentum and Vodacom were all ranked top in their categories. Draftfcb itself was recognised as the Brand Agency of the year.
"The group has a reputation of producing advertising that resonates with the full spectrum of South Africa's population – a fact that's evidenced by their perennial dominance of the Pendoring Awards which recognise communication produced in indigenous languages. 'This reputation has helped the Group land some handy new accounts last year, including Wimpy, Clicks and Beiersdorf. In total, the group added R35m in new business, while shedding R4,2m with the loss of Spur, Hollard and Emirates Airlines."
In his 12 years in the advertising industry, Draftfcb Johannesburg's 35-year-old executive creative director and AdFocus 2012 New Broom Award recipient, Neo Mashigo, has been driven by the need to raise the profile and quality of vernacular advertising as well as transformation of the industry at ground level. His aim, he says, has been to "influence the conversation around SA-style work and black work in particular."
AdFocus journalist Zweli Mokgata praised the fact that Mashigo and his creative team have consistently produced cutting-edge work in indigenous languages as well as campaigns that are distinctly South African. They have been a consistent top performer at the Loerie Awards in the New Voice category, which awards excellence in non-English radio advertising, and have also dominated in the Pendoring Awards' Truly SA category.
Mashigo also strives to see the advertising industry output more representative of SA. As a member of the Creative Circle's executive committee and a Loerie Awards committee member he strives to bring young black talent into the industry.
About Draftfcb
With an equal focus on creativity and accountability, Draftfcb is committed to producing brilliant ideas that change consumer behavior. As a global, fully integrated marketing communications agency operating against a single P&L, Draftfcb provides clients with highly collaborative, channel-neutral thinking that delivers engagement and, most importantly, action. With nearly 140 years of combined expertise, Draftfcb has roots in both consumer advertising and behavioral, data-driven direct marketing. The agency's corporate leadership team includes Howard Draft, executive chairman; Laurence Boschetto, CEO and president; Jonathan Harries, vice chairman emeritus & executive advisor, global creative; and Neil Miller, chief operating officer. The Draftfcb network spans 150 offices in 90 countries and employs nearly 9,000 people. The agency is part of the Interpublic Group of Companies (NYSE:IPG). For more information, visit
www.draftfcb.com
.