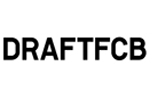 Draftfcb Worldwide,
New York
Follow
Update
100 West 33rd Street
New York, New York 10001-2900
United States
Phone: 212 885-3000
Fax: 212 885-3300
Draftfcb Deploys "Auto-Graph" Robot for Holiday Card in Keeping with the Spirit of Giving
December 4, 2012
Global marketing communications agency Draftfcb has issued its 2012 digital holiday card to employees, clients and friends worldwide, in which the agency has once again expressed its intent to make a donation to the New York City-based Coalition for the Homeless on behalf of all recipients.
"To personalize the charitable gift, we employed a drawing machine, developed by Chicago digital artist Harvey Moon, to recreate signatures. Called the 'Auto-Graph,' it's a robotic pen that allows recipients to virtually sign the card with their first name and location over the internet, using either a computer mouse or finger," said Robin Heisey, chief creative officer of Draftfcb Toronto, who led the team that created this year's card concept. "We wanted to get as close to providing real signatures as possible, so the Auto-Graph replicates not just the image of the signature, but the actual strokes the user makes. It's a physical card that people can sign from anywhere in our network, or anywhere on the planet."
The idea behind the Auto-Graph robot is simple. Since the donation is made on behalf of many individuals, as many of those people's names as possible should be on the card. A giant, 10 feet by 12 feet holiday card is now physically on display in the Toronto agency, where the robotic arm is currently hard at work transcribing names with, naturally, a Sharpie marker. Draftfcb handles the Sharpie account in the U.S. and Brazil.
Draftfcb Toronto has also set up a webcam so that once someone signs the card he or she can view the Auto-Graph bot in action in real time up until 5 p.m. GMT on Friday, Dec. 7.
"Giving back to those in need is part of our agency's DNA," said Laurence Boschetto, global CEO and president of Draftfcb and a board member of Coalition for the Homeless. "The Coalition does so much for so many people. In the wake of Hurricane Sandy, the need is especially great. I look forward to personally delivering our holiday card, along with our donation, in the days before the holiday break – though I likely will need help carrying it."
To view and sign the digital holiday card visit
http://ourgiftfromyou.com/
About Draftfcb
With an equal focus on creativity and accountability, Draftfcb is committed to producing brilliant ideas that change consumer behavior. As a global, fully integrated marketing communications agency operating against a single P&L, Draftfcb provides clients with highly collaborative, channel-neutral thinking that delivers engagement and, most importantly, action. With nearly 140 years of combined expertise, Draftfcb has roots in both consumer advertising and behavioral, data-driven direct marketing. The agency's corporate leadership team includes Howard Draft, executive chairman; Laurence Boschetto, CEO and president; Jonathan Harries, vice chairman emeritus & executive advisor, global creative; and Neil Miller, chief operating officer. The Draftfcb network spans 150 offices in 90 countries and employs nearly 9,000 people. The agency is part of the Interpublic Group of Companies (NYSE:IPG). For more information,
visit www.draftfcb.com
About Coalition for the Homeless
Coalition for the Homeless is the nation's oldest advocacy and direct service organization helping homeless men, women, and children. We are dedicated to the principle that affordable housing, sufficient food, and the chance to work for a living wage are fundamental rights in a civilized society. Since our inception in 1981, the Coalition has worked through litigation, public education, and direct services to ensure that these goals are realized. For more information, visit
www.coalitionforthehomeless.org