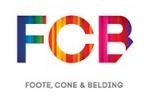 FCB Worldwide,
New York
Follow
Update
100 West 33rd Street
New York, New York 10001-2900
United States
Phone: 212 885-3000
Fax: 212 885-3300
THE FASTEST CHRISTMAS SONG IN THE WORLD
December 16, 2012
This year Draftfcb in Zurich and BMW Switzerland are once again presenting a Christmas greeting which is somewhat speedier than usual, this time with the title "The Fastest Christmas Song in the World".
BMW customers have received a special holiday card with a sound chip which plays a strange-sounding version of the classic Christmas carol "Jingle Bells". The recipients can find out why the song sounds so odd by scanning the card's QR code or by clicking on the link
fastestchristmassong.ch
.
There they can find a short film, which explains how the song was created. The new BMW M135i, which produces 320 horsepower, was used as a recording studio. Taking this mobile sound studio round the track was Martin Tomczyk, BMW DTM professional driver. Occupying the other seats is the Zurich Acappella Group.
Visit
fastestchristmassong.ch
to listen to their performance.
Credits
Key personnel at BMW: Mark Backé (Marketing Manager), Miranda Amsler (Senior Manager Advertising), Jan Bolliger (Senior Manager Online)
Key personnel at Draftfcb in Zurich: Dennis Lück (Executive Creative Director), Christoff Strukamp and Stephanie Lang (Art Directors), Maximilian Kortmann (Copywriter), Sandra Kopplin (Consulting)
Sound: Kirschner Music
Film production: Lamar Hawkins, Christopher Novak, Pumpkin Film AG
Direction: Götz Hudelmaier
Post production: Fraqment
Online: Sebastian Palka, Nikita Loges, Stephan Fühner, drei elemente gmbh
About Draftfcb
With an equal focus on creativity and accountability, Draftfcb is committed to producing brilliant ideas that change consumer behavior. As a global, fully integrated marketing communications agency operating against a single P&L, Draftfcb provides clients with highly collaborative, channel-neutral thinking that delivers engagement and, most importantly, action. With nearly 140 years of combined expertise, Draftfcb has roots in both consumer advertising and behavioral, data-driven direct marketing. The agency's corporate leadership team includes Howard Draft, executive chairman; Laurence Boschetto, CEO and president; Jonathan Harries, vice chairman emeritus & executive advisor, global creative; and Neil Miller, chief operating officer. The Draftfcb network spans 150 offices in 90 countries and employs nearly 9,000 people. The agency is part of the Interpublic Group of Companies (NYSE:IPG). For more information, visit
www.draftfcb.com
.