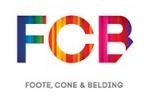 FCB Worldwide,
New York
Follow
Update
100 West 33rd Street
New York, New York 10001-2900
United States
Phone: 212 885-3000
Fax: 212 885-3300
DRAFTFCB ADDS NEW CREATIVE STRENGTH IN SOUTHERN CALIFORNIA<br><br>New Orange County/L.A. CCO Eric Springer Recruits Former Creative Partner Michael Bryce as ECD
January 1, 2013
In his first major hire since taking the creative reins of Draftfcb Orange County as EVP, Chief Creative Officer on Dec. 10, Eric Springer has recruited creative heavyweight Michael Bryce to help him steward the Taco Bell account in Orange County, and the network's soon-to-open satellite office in Los Angeles.
Bryce, who partnered with Springer at Deutsch/LA, is joining Draftfcb Orange County on Jan. 2 as EVP, Executive Creative Director. As a former EVP/group creative director at Deutsch/LA, Bryce worked closely with Springer on the successful Volkswagen pitch. He most recently has won accolades for the Samsung GS II campaign during his tenure as creative director at 72andSunny, where he also worked on Activision.
Also at Deutsch, Bryce managed the broadcast and digital creative for PlayStation U.S., and led creative management and new business wins for DirecTV, TGIFridays, and Cici's Pizza. His automotive experience spans Volkswagen, General Motors/Chevrolet, Mitsubishi and Saturn.
"Mike has one of the most perfectly balanced creative/strategic minds I have ever worked with. He is the consummate professional -- smart, focused, funny and the master of the subtleties. He raises the bar for everyone around him, me included," said Springer. "I know he will contribute many fresh, eye-opening and business-building ideas on Taco Bell. Mike knows how to tell a brand story like few others in the business. And he will play a key role in pursuing new business and building our operations in southern California."
In addition to Taco Bell, Draftfcb Orange County currently handles the Petco and the Advertising Council's Wildfire Prevention/Smokey Bear accounts.
"I'm excited to be joining Eric at Draftfcb. We're committed to building a team that will push the creative and to aggressively grow the agency in Southern California with new and existing clients," Bryce said.
Check out Bryce's creative portfolio at
http://www.krop.com/michaelbryce/#/.
About Draftfcb
With an equal focus on creativity and accountability, Draftfcb is committed to producing brilliant ideas that change consumer behavior. As a global, fully integrated marketing communications agency operating against a single P&L, Draftfcb provides clients with highly collaborative, channel-neutral thinking that delivers engagement and, most importantly, action. With nearly 140 years of combined expertise, Draftfcb has roots in both consumer advertising and behavioral, data-driven direct marketing. The agency's corporate leadership team includes Howard Draft, executive chairman; Laurence Boschetto, CEO and president; Jonathan Harries, vice chairman emeritus & executive advisor, global creative; and Neil Miller, chief operating officer. The Draftfcb network spans 150 offices in 90 countries and employs nearly 9,000 people. The agency is part of the Interpublic Group of Companies (NYSE:IPG). For more information, visit
www.draftfcb.com
.